A different dental experience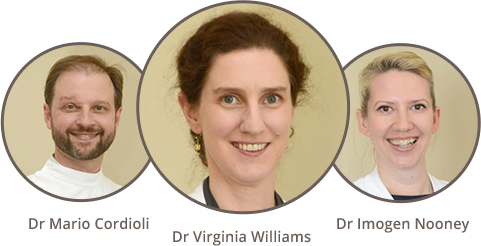 Dr Williams Dental Practice is where concern for your comfort and your health comes first. From the minute you walk in, you'll know you've made a great decision.
You'll be made to feel welcome, you'll be treated with respect, and you'll be well looked after. You won't just see the latest technology. You'll see that Dr Williams and her team care about their patients.
Experience this difference for yourself. Make an appointment now. Call (03) 5331 9285.
We're easy to get to and right in the middle of town.
A full range of services
Experience the gentle care you need to feel look, feel, and smile your best.

Oral Hygiene
Regular checkups are the foundation of good oral hygiene. We'll let you know about any issues early…so you can avoid discomfort and save time. Your checkup includes cleaning, scaling, X-rays, and a full fluoride treatment.

Orthodontics/Braces
To straighten teeth and correct bad bites, braces help provide the best orthodontic treatment. We treat teens and adults with both traditional and less obvious braces. Our cosmetic services include whitening and veneers.

Crowns
A dental crown can help restore a tooth's size, shape, and strength. We create crowns to encase the visible part of either a tooth or an implant.

Implants
Sometimes your old tooth just isn't 'cutting it' anymore. If that's the case, dental implants may be an option. Implants fuse with your jawbone to provide the strength and peace of mind usually associated with healthy teeth.
Flexible payment plans to meet your needs
If you've been putting off dental care because of budget concerns, we've got good news. We'll work with you to create a treatment plan that meets both your time and budget needs.
Your personal invitation from
Dr Virginia Williams
If you are looking for a dentist who cares about your comfort and your health, I hope you will come see me. I understand that choosing a dentist is not always easy. We all want to make a good decision.
I've been in practice here in Ballarat for almost 20 years. The profession has always fascinated me. I've trained extensively, and continue to upgrade my skills.
Every day, I come into my practice in Ballarat with a renewed commitment to the health and comfort of my patients. My passion is to give you a high level of care. I want you to benefit from all of today's technology, without giving up the warmth and compassion that insures gentle treatment.
It would be a pleasure to meet you. Please give us a call and choose a convenient time to come in.